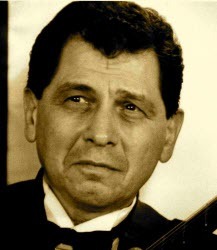 As a young recording artist for United Artists, Verve, and DOT Records, Peter B. Antonio's early career was dedicated to writing hits, producing groups and solo artists, and performing internationally.

His recording of the guitar instrumental "Stampede", conceived with Scarlets' band member John Sanzone in 1959, and which is arguably the first "Surf Guitar" record ever (look out Dick Dale), has become a guitar-player's standard, covered by over nineteen artists to date and still counting!  Then, as "Pete Antell" and still a teenager - he joined the group "The Chants". With their MGM Records hit, "Respectable" and they embarked on a European tour, playing in St. Moritz for Jackie Kennedy and in Italy for concerts and television engagements. Recording in Milan, Italy as "Pete Antell and The American Twisters" he had hits on Vedette Records with producer Armando Sciascia, and was featured in the Italian film, "Mondo Caldo di Notte."

Returning to the States, Pete and drummer John Linde formed Survey Music, a production company that offered hundreds of songwriting and producing projects in NYC's emerging pop and rock scene (which spawned the Carole Kings, Neil Diamonds, Phil Spectors, as they re-defined the Pop Record Industry). Survey Music produced records for Cameo-Parkway, ABC-Paramount, Columbia, Elektra, MGM, Chess, Swan, Liberty, and Buddah - many at Long Island's legendary Ultra-Sonic Studios -- which Pete discovered by chance one day, introducing it to Billy Joel, The Shangri-las, The Vanilla Fudge, Janis Ian, Shadow Morton, Bruce Morrow, and others. Pete's songs were recorded by  Tina Turner, The Walker Brothers, Ronnie Spector, The Percells, Bobby Bloom, Jay (Traynor) of the Americans, The Valrays, The Expressions, Mickey Lee Lane, The Tymes, and The Ad Libs. 

As a recording artist, Pete Antell has had two Billboard hits: "Night Time" (staying on the Top 40 charts for 8 weeks), and "Keep It Up" - both co-written with John Linde. And, his records of The Percells' "What Are Boys Made Of" and Mickey Lee Lane's "Shaggy Dog" & "Hey Sah Lo-Ney" also became national hits. He wrote and produced the theme for Bruce Morrow's WABC-radio show, "Movin' and A-Groovin - Havin' a Ball with Cousin Bruce!". He launched Elektra Records' hit singles division with his audacious and unique version of Bob Dylan's "The Times They Are A Changing". He has shared stages with some of the finest musicians of jazz and rock, performing on national tours with The Doobie Brothers, Fleetwood Mac, Jose Feliciano, Michael McDonald, Johnny Maestro, Timi Yuro, Tony Orlando, Jackie Wilson, Henry ("Shannon") Gross. Recording projects with Ike and Tina Turner, Mitch Ryder, The Four Seasons, Judy Collins, Phil Ochs, Bobby Bloom.

With a song repertoire spanning many decades and genres, he presented the Pete Antell Orchestra, prominent at the highest profile events, including two presidential inaugurations, and was featured in Woody Allen's motion picture "Crimes and Misdemeanors," where Pete was part of the scripted cast performing at The Waldorf Astoria in NYC. He has worked with top jazz musicians such as Count Basie, Dick Hyman, Tito Puente, Cab Calloway, Hazel Scott, Candido, Marty Napoleon, Harry Sheppard, Danny Davis, Angelo DiPippo. The Jazz producer and legend John Hammond would come to Pete's NY performances, and once wrote, "You really knockled us out last night!".

His television credits include original songs featured in the network TV series; "Angel", and in the made for-TV movies "Seizure" (the Kathy Morris story), "Dragstrip Girls," "Runaway Daughters," and "Jailbreakers." Pete starred in the Off-Broadway dance/musical; "Sheer Romance", under the direction of Dick Hyman, with a lead musical-theater role at the Brooklyn Academy of Music.  
His live (historical) CD "Pete Antell At The Picture Lounge (April 1970)" featuring his top-notch jazz-rock band, can be found on Antelope Recordings (www.peteantell.com).  Currently, there is the brand new 2018 "THE PERCELLS COLLECTION / What Are Boys Made Of"" - his long-awaited compilation of the hit '60s girl group - a digitally mastered collection of all the studio recordings from the original analog tapes.
And in the works is his first-ever studio recording of original compositions, old and new.